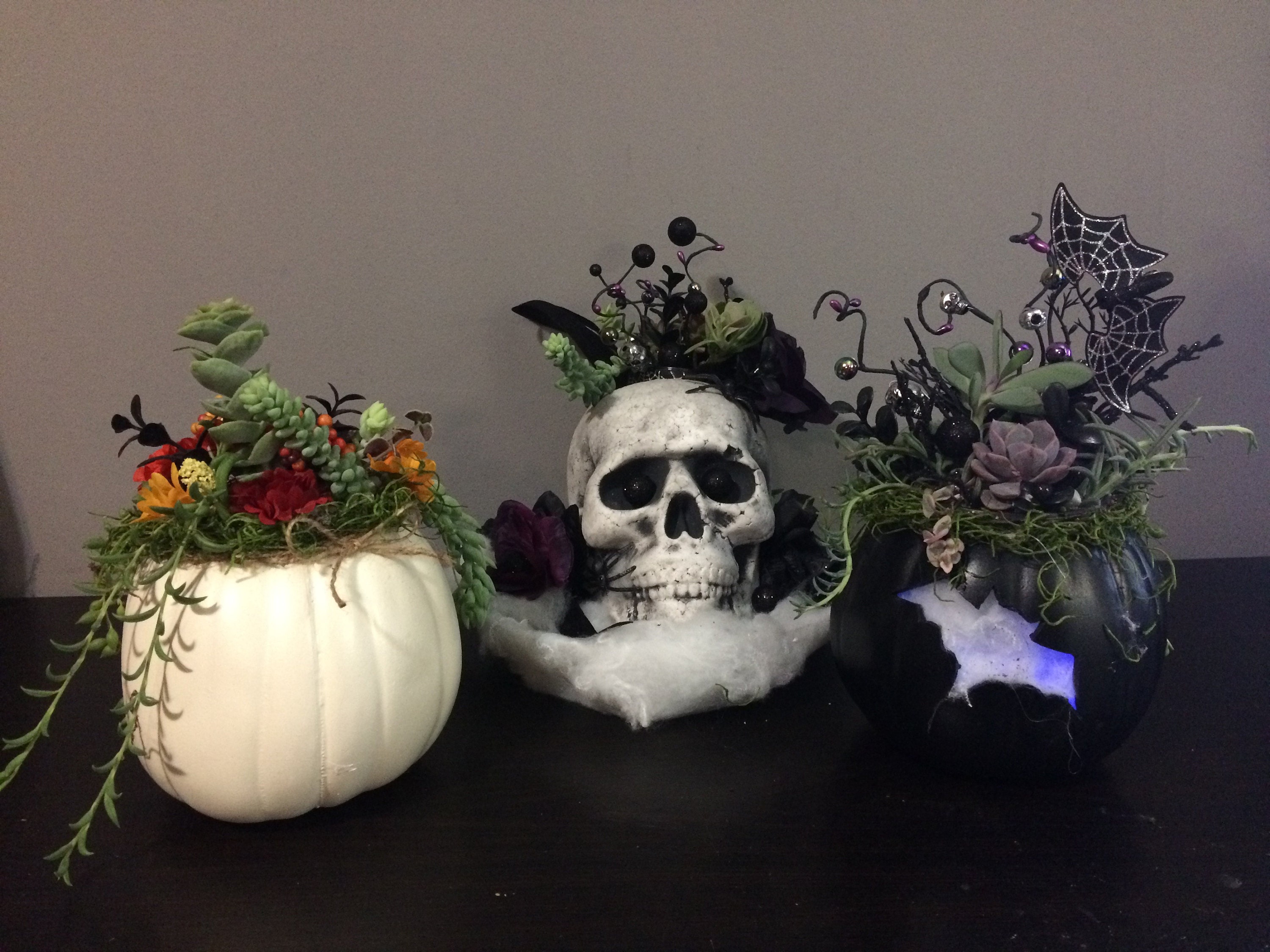 Pumpkins and succulents. We've seen them around for a few years. They're cute for the holidays, and an excellent craft for family night. We love the idea, but we just don't like the thought of what that centerpiece is going to look like at the end of the month. That live pumpkin won't last forever, and handling it to remove your succulents if you want to keep them isn't going to be fun. 
We decided to use a foam pumpkin, so our decoration can be used for years, with new plants every year. Here's how we did it. I'll add a list of things you'll need at the end.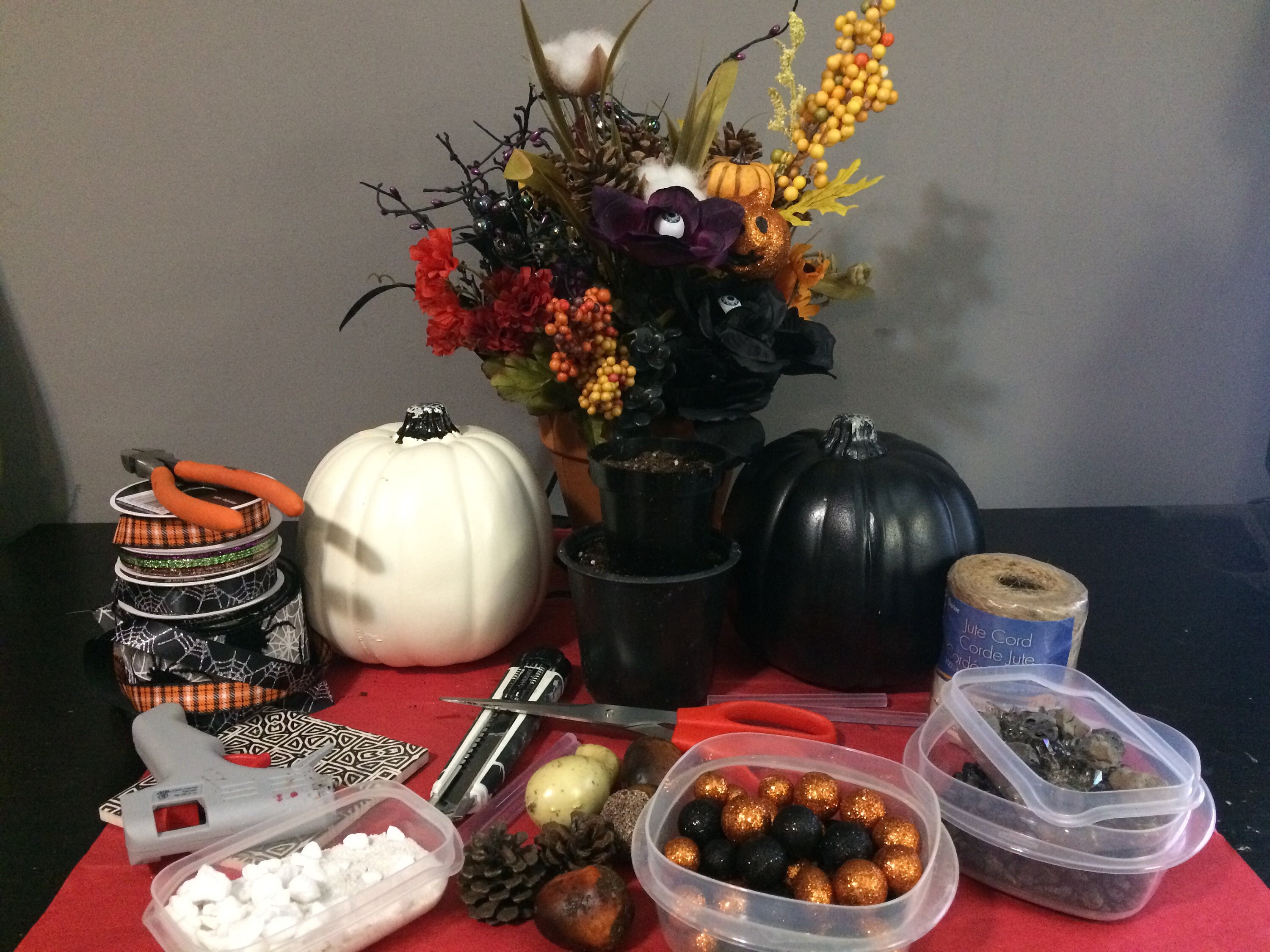 We started by using an upside down 4" pot to outline a hole on the top of the pumpkin, then cut out that circle so the pot sits inside the hole. This way, you can take the pot out for watering, and you'll be able to easily remove the plants once it's time to put away your pumpkin. Be very careful at this step-some foam pumpkins are harder to carve than others. I used a smooth blade, but I think a serrated edge would have been better.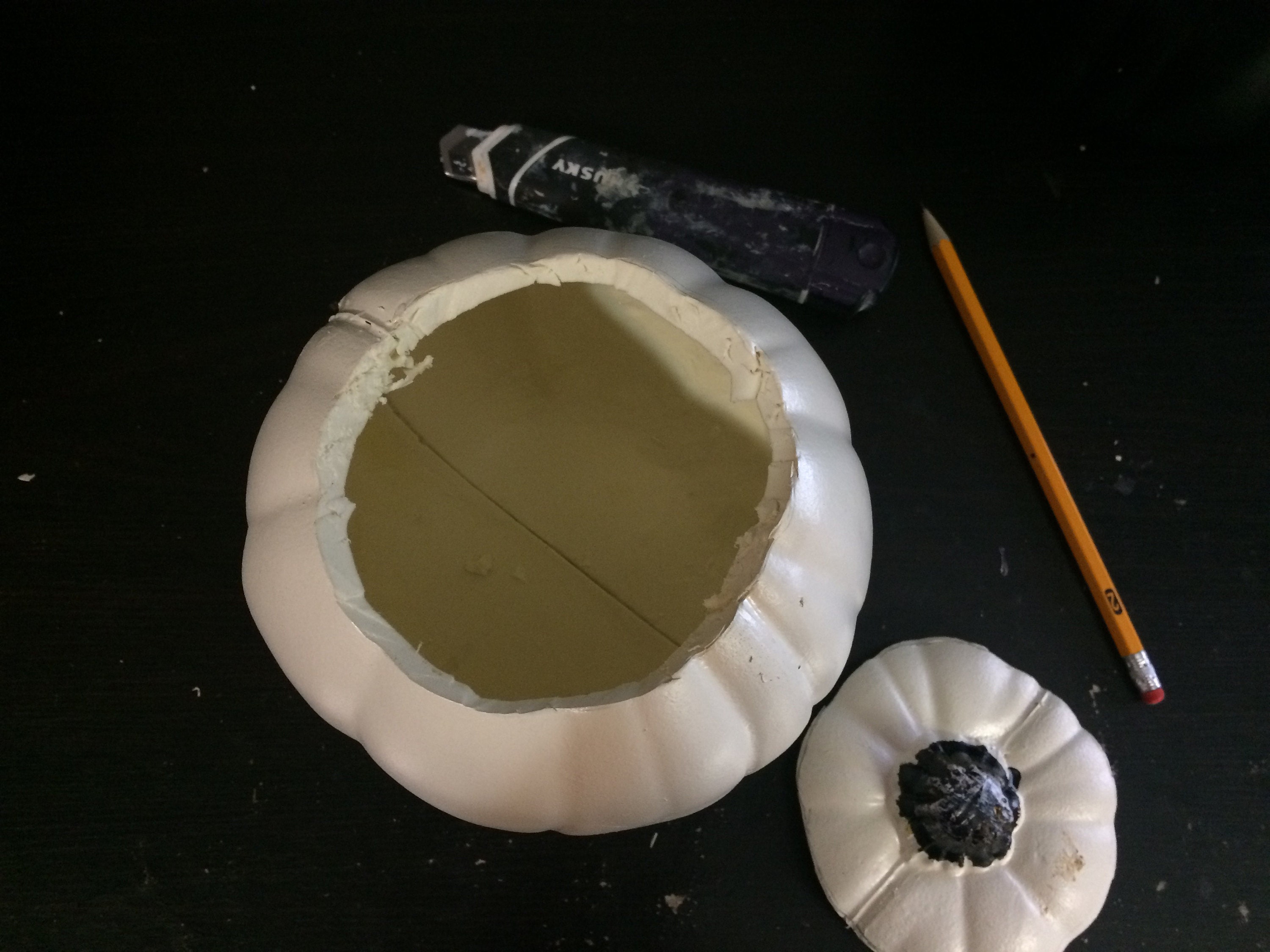 If you'd like to carve a face into your pumpkin, or a bat or witch, etc, now is the time! For the black pumpkin, I used hot glue to attach spiderwebs to the inside of the cutout, placed a glow bracelet behind the spiderweb, then placed the pot into the pumpkin. You can also use an electric tealight if you prefer white light inside.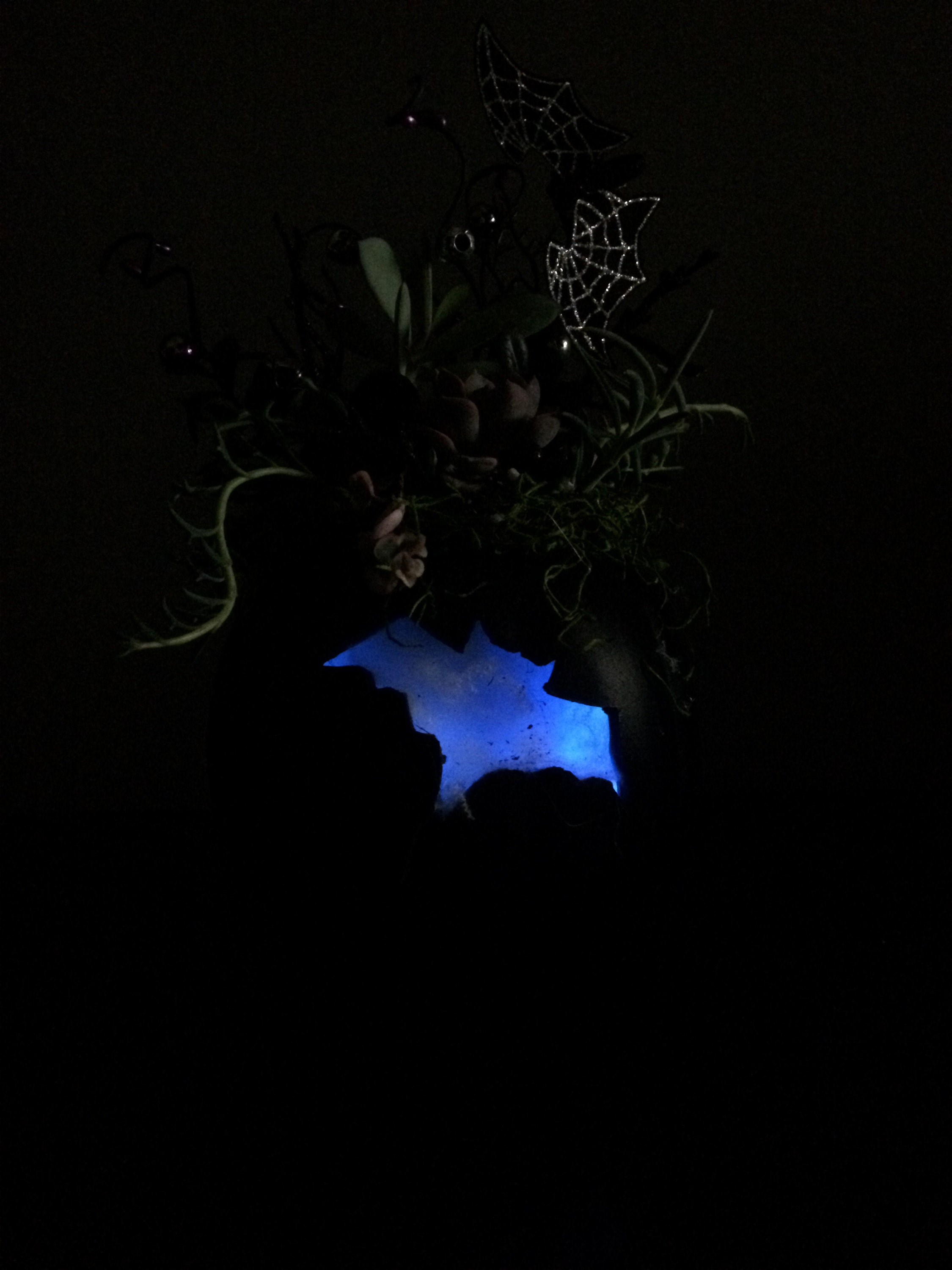 Use a hot glue gun to attach some burlap, twine, or ribbon around the top of your pot, to help hold it in place and to hide the pot. This is best done before you put your soil and plants in the pot-you can learn from my mistake here. I tried to add my twine after the plants were in place, and ended up spilling soil and nearly hot gluing plants to the pot. The second attempt went much more smoothly.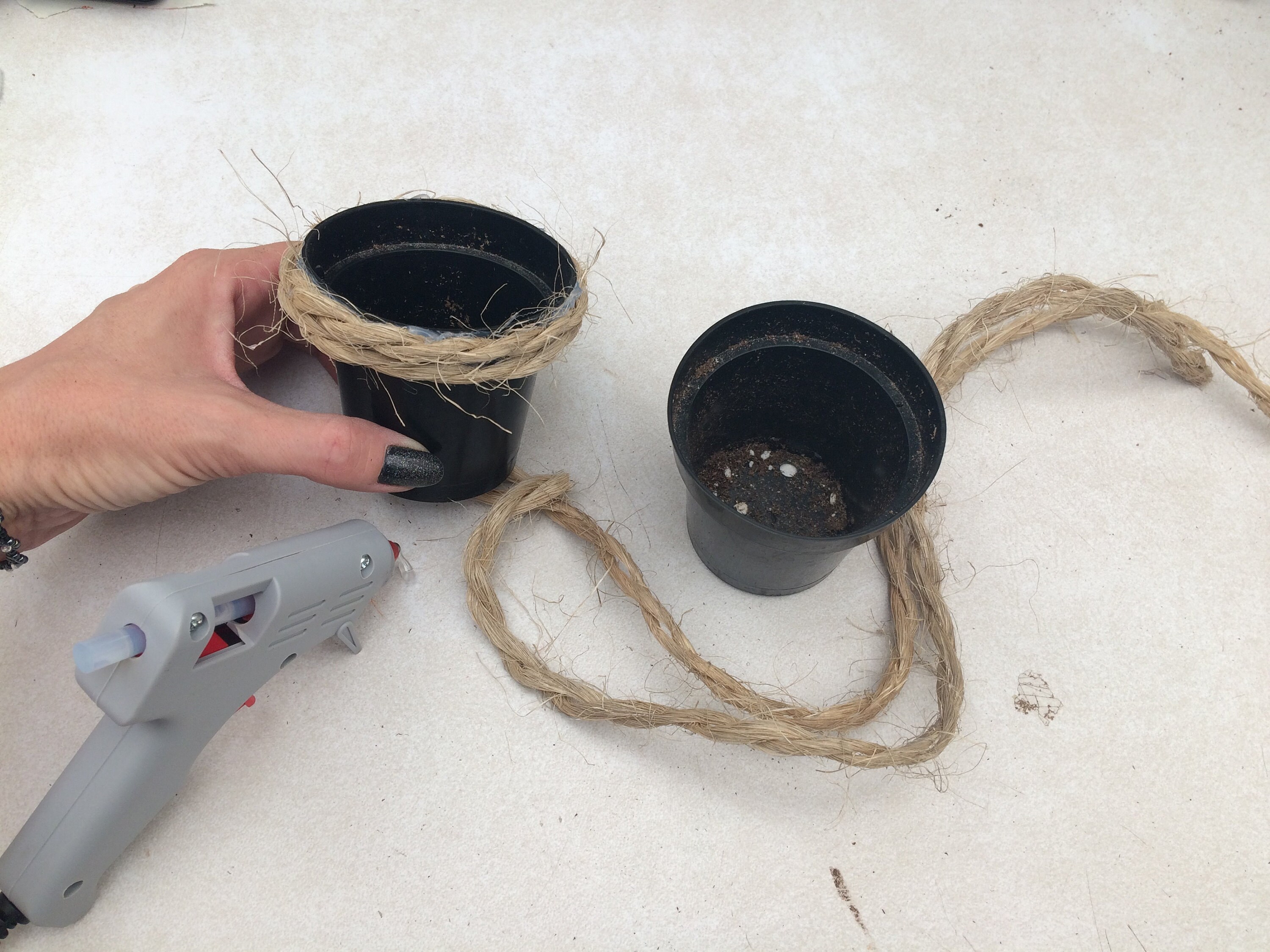 Fill your pot with soil, water the pot gently, and stick your succulents into the soil. Try to add a few different textures, colors, and heights to give it interest. Add some decorative rocks, moss, straw, or any other top dressing you'd prefer, to cover any visible soil.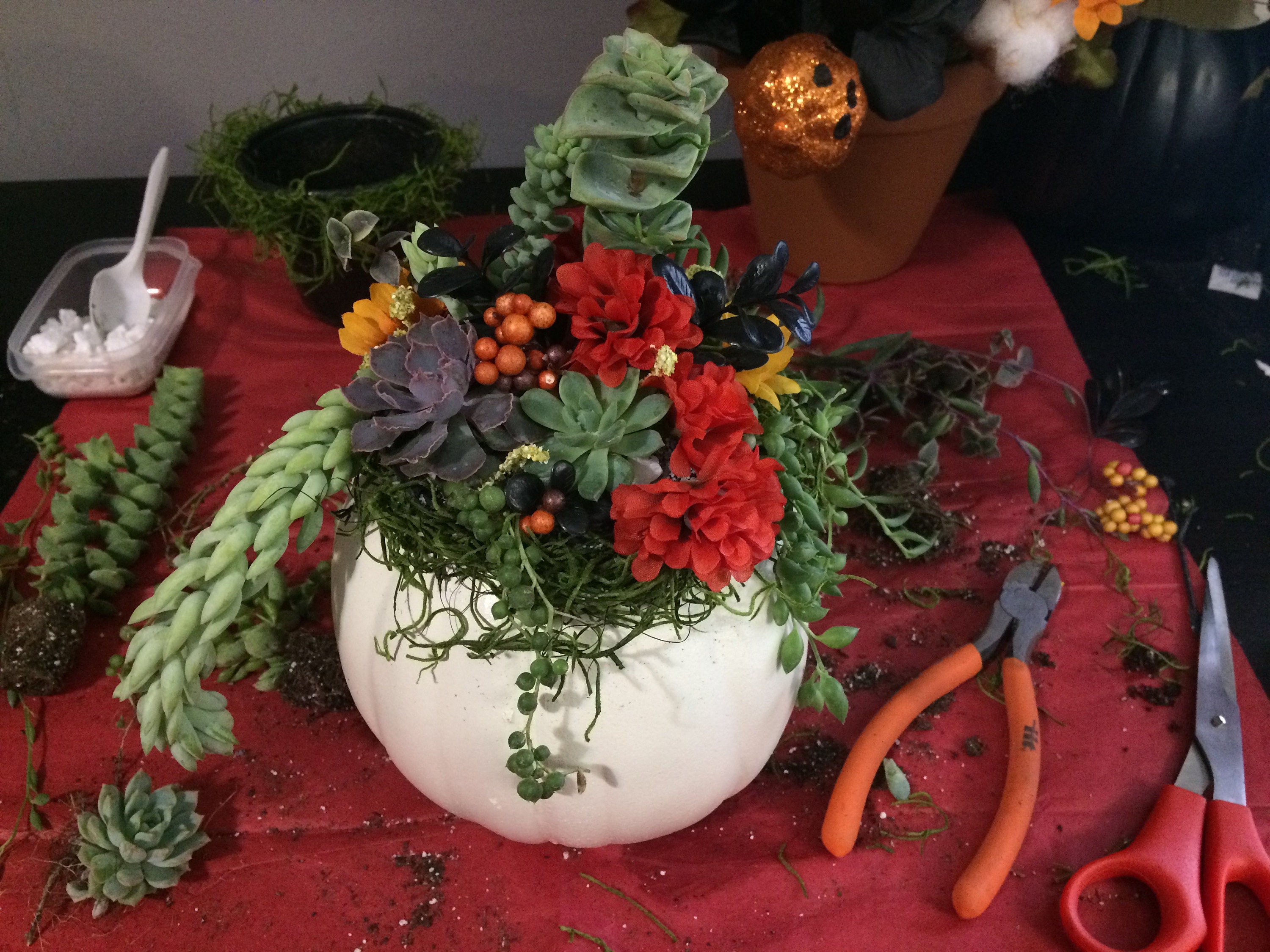 We used an assortment of silk flowers from various places, as well as some cute fall and Halloween decorations, to add some flair to the succulents. You can leave your pumpkin plain, or use gems, stickers, or markers, or anything else you desire to decorate it.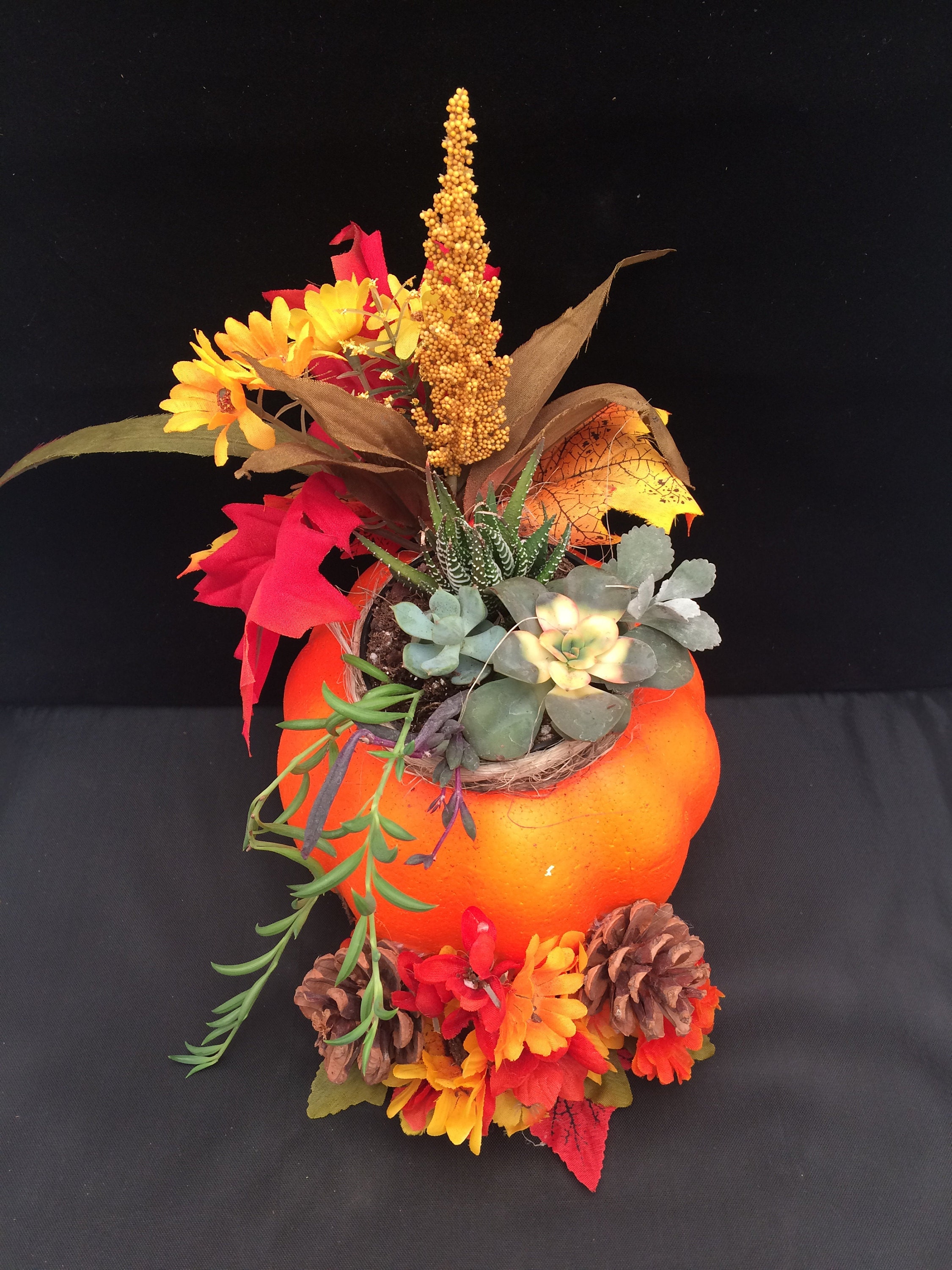 We chose to use one single pre-made pick for the top of the orange pumpkin, so kids would be able to make their own. We used assorted pieces from the silk flowers for the bouquet at the base. Again, feel free to let your imagination run wild!
Place your pot into the pumpkin, and take one last look. Be sure your plants are well set into the pot, all your decorations are attached or pushed into the soil, and that you can still remove the pot for watering.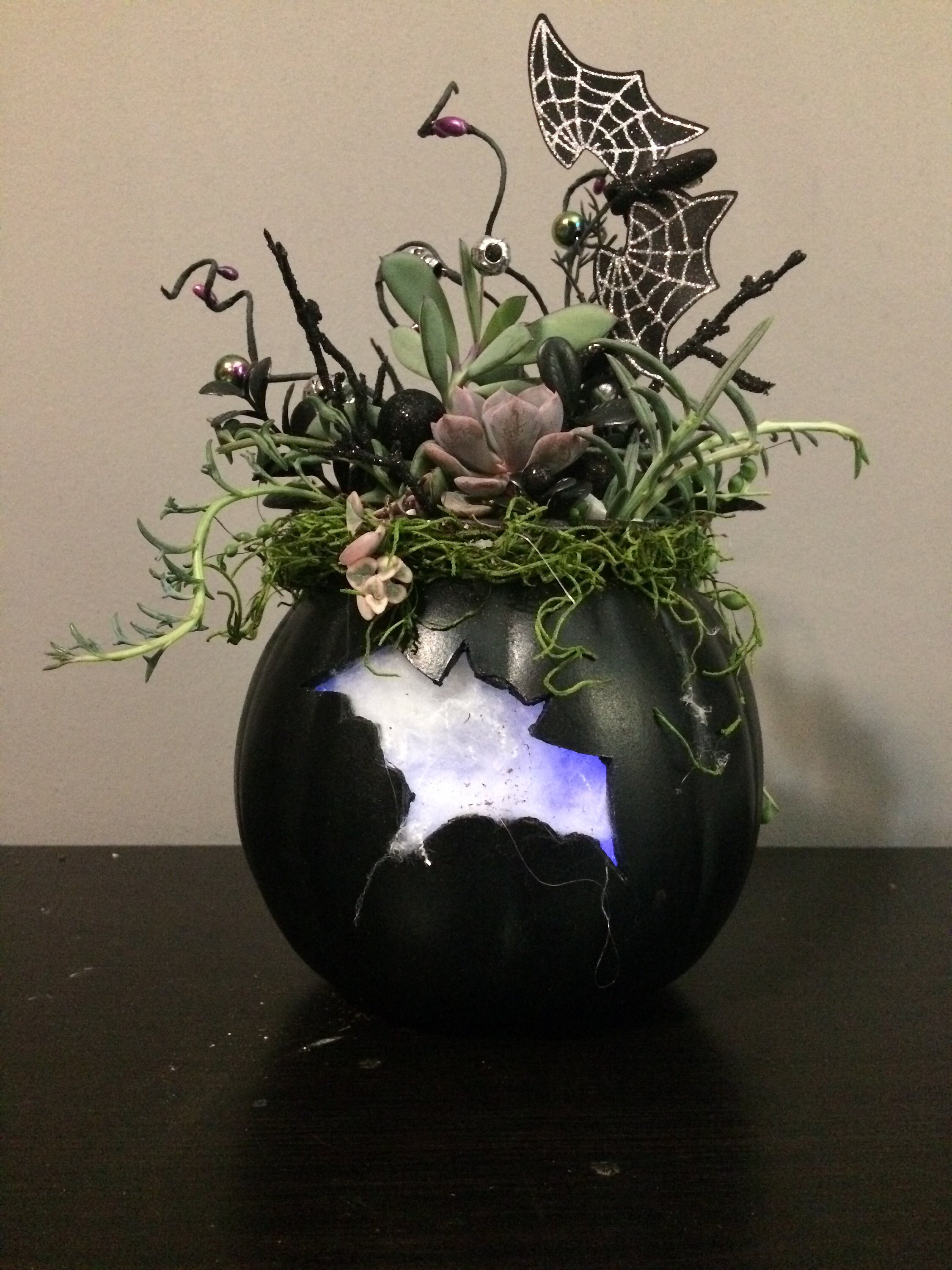 Set your pumpkin on a holiday themed plate and place it in a bright location for holiday decor that will last for months. Water it when the soil is dry by removing the pot from the pumpkin and setting it into a shallow dish of water. Bottom watering will keep your arrangement healthy while keeping your decorations looking their best. 
You can replace any Halloween decorations with harvest gourds, leaves, and other fall or Thanksgiving related items and leave it on display until the end of November. 
Once it's time to pull out your poinsettias, you can repot any succulent cuttings (which will probably be rooted by then) into separate pots, or give them as a gift to the plant lover in your life. Or, you can use them again in a Christmas display--we'll show you in December how to create a beautiful mixed arrangement with succulents and poinsettias. 
Don't limit yourself to pumpkins! Foam skulls also make great planters (but be sure to add a counterweight to the front of the skull, or glue it to a display plate-they're oddly balanced, and the weight of the plants will topple the skull).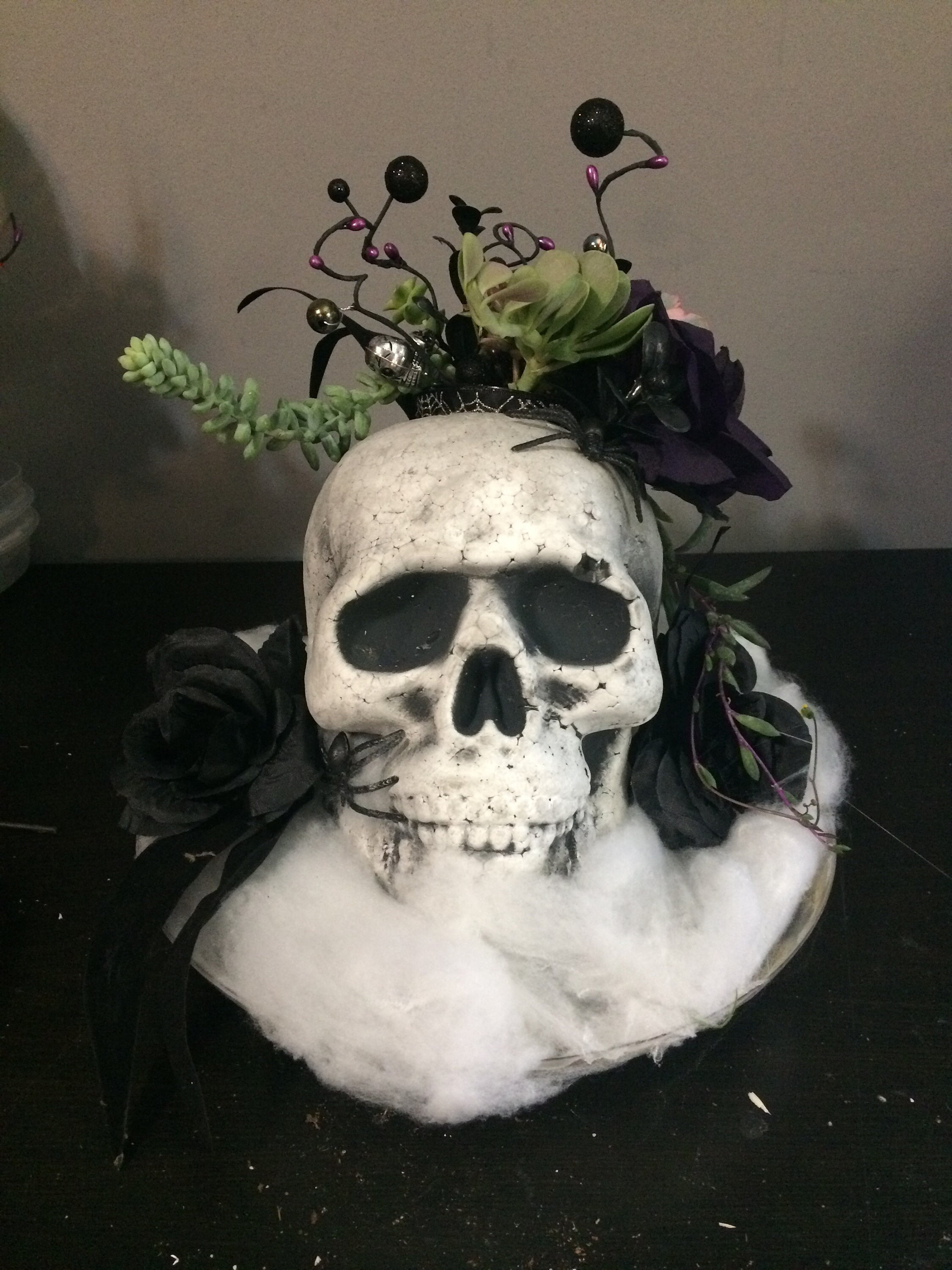 Hot glue gun & glue (there's glow in the dark glue sticks out there!)
wire cutters
scissors
razor knife or serrated pumpkin carving knife
Foam pumpkin
3" or 4" pot
pencil
moist soil
succulent cuttings or small rooted plugs - 3-6, depending on the size of the pot and plants you choose
top dressing (optional) (small rocks, sand, moss, etc)
twine, ribbon, and/or moss
silk flowers
Halloween decorations (small)
spiderwebs (optional)
tealight or glow in the dark bracelet (optional)
whatever else you can think of to make your arrangement stand out! GET CREATIVE!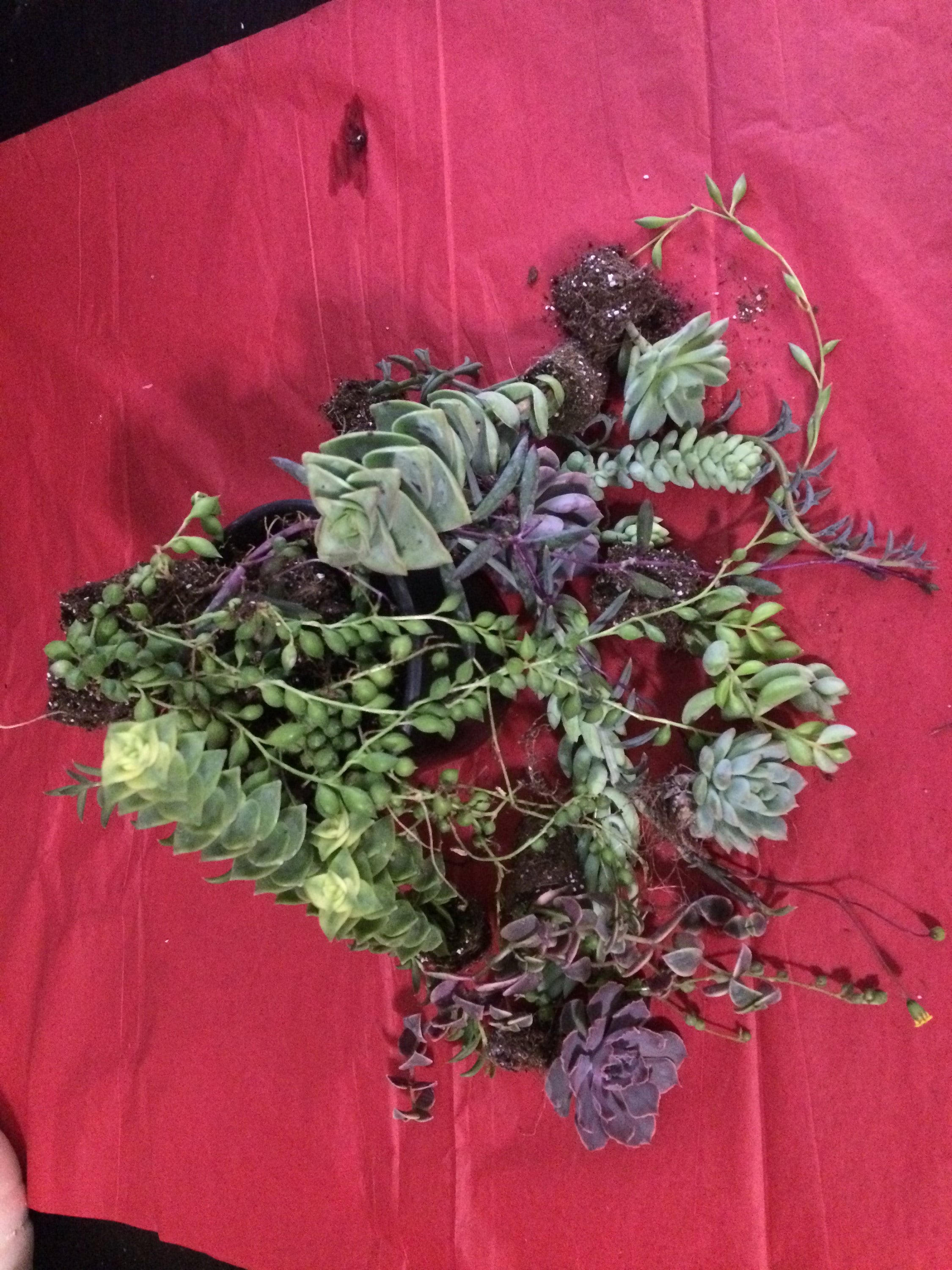 Our trailing succulent assortment and either our rooted or unrooted succulent cuttings are perfect for this craft! Order both and you'll have enough succulents for 3-5 pumpkins, with perhaps a few leftover. 
https://www.etsy.com/listing/732707693/trailing-succulent-assortment-13-rooted
https://www.etsy.com/listing/713912813/unrooted-succulent-cutting-box
https://www.etsy.com/listing/628996665/box-of-fully-rooted-succulent-cuttings
Let us know what you think of these arrangements in the comments, and head over to our Facebook page to share photos of your creations!
As always, happy planting!
~Diana